Tuesday, July 26, 2022
An artist's life is no easy path, and most accept the likelihood that a lifetime of work may never achieve recognition. That's what makes the career of Javier Mariscal so remarkable. This Spanish artist has found success in a myriad of genres, including furniture design, painting, interior design, film, and sculpture; he's published books, a cartoon series, a skateboard collection, and even designed children's shoes for the company Camper.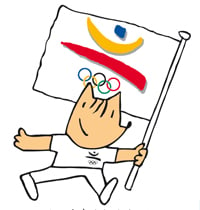 His quirky comic character, Cobi, the loveable sheepdog, was chosen for the 1992 Olympic Games Mascot and recognized as the most profitable mascot in the history of the modern games. He has designed several covers for the New Yorker, created the giant lobster sculpture next to Barcelona's port, and his animated movie Chico and Rita was nominated for an Academy Award.
Since the beginning days of digital art, Mariscal has been involved with fine art printing.
"I lived digital printing technology, and I saw how it developed," says Mariscal, who prints on an HP DesignJet Z3200ps Printer. Mariscal trusts HP Matte Litho-realistic Paper, 3-in Core, to print his fine art posters.
"The quality of the fine art printing is like a dream come true," he says. "We have tested many papers and decided on HP Matte Litho-realistic Paper. With this paper, I can be assured of the quality."
Mariscal is creating an original drawing to celebrate 150 years of the Port of Santander in Spain to be printed 60-feet-long. "I have peace of mind that when the graphic is printed, it will be spectacular," he says. Mariscal prints on HP Matte Litho-realistic Paper for his online print sales, too. Its environmental certifications are a critical factor in his choice.
Visit his online shop at mariscalstore.com to see his charming, humorous designs that contrast with their underlying social commentary. Offer your customers the quality they can trust: HP Fine Art Printing Materials.
For more information on HP Matte Litho-realistic Paper and other HP Large Format Media, or to order, call us at 888-893-4668, visit HPLFMedia.com, or email info@HPLFMedia.